Mestre Paulo Batuta
Temporary Lecturer in Dance - Afro-Brasilian, Capoeira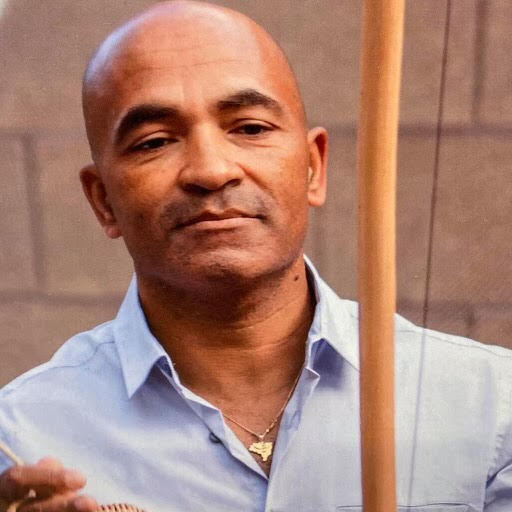 9500 Gilman Dr
Mail Code: 0344
La Jolla , California 92093
Biography
Biography
Paulo Lima, better known in the Capoeira community as Mestre Paulo Batuta, first experienced Capoeira in 1985 in Campinas, São Paulo, Brazil. He began training with the group Capoeira Regional Baiana, under Mestre Milton. In 1990, the school was transferred over to Mestre Cicero and his academy, Capoeira Ritmo Brasil. This school is now better known as Cordão de Ouro, Campinas, a name that reflects a lineage tracing from Mestre Cicero, to the founder of Cordão de Ouro, est. 1967, Mestre Suassuna. Mestre Suassuna trained with various groups including those of the Grand Masters and pioneers in the history of Capoeira, Mestre Bimba and Mestre Pastinha. Thus, the ever evolving Capoeira practiced today by Mestre Paulo Batuta and his students, still holds tradition and influence from the great Mestres of its roots.Mestre Paulo Batuta, came to San Diego in 1997 originally to study English. He trained Capoeira on the side, and soon found himself in a leadership role as he became endeared with a group that had embraced this Brazilian art form. Before long, he left behind his former career in Brazil as an economist, as he discovered that capoeira had opened a door for him in San Diego.
In the Spring of 1999, Mestre Paulo Batuta (then known as Instrutor Paulo) established Capoeira Cordao de Ouro, San Diego with the consent of Mestre Marcelo "Caveirinha" Pereira. Mestre Marcelo, who also comes from Capoeira Cordão de Ouro, is the founder of Capoeira Cordao de Ouro and the non-profit organization, Capoeira Institute, Inc., both based in the Bay Area of California. Since then, Paulo Batuta has been the executive director of both Capoeira Cordao de Oro and Capoeira Institute, Inc. for the greater San Diego area.
It was under the supervision of Mestre Marcelo that Mestre Paulo received his capoeira nickname "Batuta." Mestre Marcelo, impressed by the liveliness he brought to Capoeira Cordao de Oro, began to call him Batuta. Batuta in Portuguese slang means cool guy. Literally, it translates to baton, or conductor/maestro. In all its meanings, it is a name that is well suited for this Mestre full of vigor and beloved by his group and the community.
Since its birth, Capoeira Cordao de Ouro, San Diego has continued to grow in numbers and its students have extended it across the globe. Under Mestre Paulo Batuta, Capoeira Cordao de Ouro established a school in Las Vegas in 2002, in Guam in 2005, and in Houston in 2008. In addition to his central school in Pacific Beach, San Diego, Mestre Paulo Batuta offers classes throughout the community. He teaches at the University of California at San Diego, and through the non-profit organization, Capoeira Institute, he provides outreach programs for underprivileged youth.
For ten years Mestre Paulo Batuta has been the "conductor" of not only a strong capoeira school, but also of bringing Fine Arts and the culture of Brazil to the community. Paulo Batuta directs Planet Brazil, a performing arts group that puts on public, private and charitable shows. He also produces Brazilian Day San Diego, Street Fair and Parade, est. 2008, a festival that brings together thousands of people to embrace the flavors, sounds, and Fine Arts of Brazil. In addition, Mestre Paulo Batuta travels regularly throughout the year to Capoeira events around the world. At these events, he is invited to perform, as well as give workshops and lectures.
When asked about the most important element of Capoeira Cordao de Ouro, Mestre Paulo Batuta expresses that "For ten years, Capoeira has been promoting a cultural exchange between Brazil and the United States. In this way it has been opening doors, not just for me, but for other capoeiristas from our academy and abroad." As a result of being part of this special community, he has not only seen his students grow within the discipline of Capoeira, building confidence, strength and endurance, but he has also seen them build friendships, families, take on leadership roles, and find related careers in dance, music, writing, and more. "Capoeira," says Mestre Paulo Batuta, "has the power to educate people to become better citizens."
Office
Office
Wagner Dance Bldg.