Eric Christmas
Faculty In Memoriam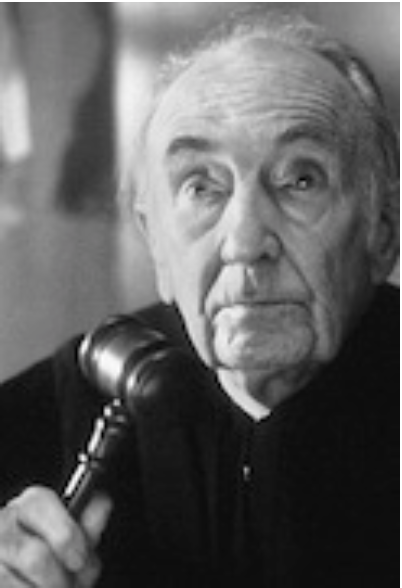 9500 Gilman Dr
Mail Code: 0344
La Jolla , California 92093
Biography
Biography
Eric Christmas (March 19, 1916 – July 22, 2000) trained at the Royal Academy of Dramatic Art (RADA), where his classes were supervised by George Bernard Shaw. After graduation, he apprenticed with Marie Tempest. He gained experience in English repertory theatre in 1936, and had a principal role in the London production of Noël Coward's Bitter Sweet in the 1930s. During the Second World War, he was a member of Royal Air Force production units and performed in the RAF's Gang Show. After moving to Canada in 1948, he started a long working relationship with television comedians Johnny Wayne and Frank Shuster, playing the character Madam Hooperdink. His own shows Christmas is Coming and Salad Days toured Canada in the 1950s. Together with Lorne Greene of Bonanza fame, Christmas started a radio school for actors in Canada. He was artistic director at the Ottawa Repertory Company in 1954 and ran the Peterborough Summer Theatre that year. He began a long association with Canada's Stratford Festival in 1957, performing in 13 seasons and 21 Shakespearean productions until 1970. It was Christmas and a group of veteran actors like Christopher Plummer, Irene Worth, and Peter Ustinoff, among others, who helped define Stratford in its early years.

In 1961, he won the prestigious Clarence Derwent Award on Broadway for his performance alongside Julie Harris and Robert Redford in Little Moon of Alban. Also on Broadway, he starred in Look After Lulu, co-directed by Noël Coward. He also received the prestigious LA Drama Critics Circle Award for his portrayal of the Barking Man in Georges Feydeau's Chemin de Fer. Christmas had associations over the years with the Canadian Players, and was an Associate Artist at San Diego's Old Globe Theatre, where he won many awards for both acting and directing, including the Atlas Award.

Eric Christmas came to San Diego in 1968 to help re-form La Jolla Playhouse. When that opportunity was postponed, he instead became the first faculty member in the Theatre Department at UC San Diego, recruiting many of the founding faculty. As an Acting Professor, he directed his first production on campus, Marat/Sade, in March of 1969. Eric also starred in and directed a popular production of Tartuffe at UC San Diego. He was made a full Professor in 1973, retiring in 1986. Eric Christmas was a teacher of great vitality and inspiration who brought to his teaching all the wealth of his extensive experience in the professional theatre. He was a rare teacher in that very few with his kind of experience are able to make the transition to teaching as readily as he did. He taught an extremely popular course to a thousand medical students—Introduction to Theatre. The medical students loved the overview of dramatic arts and were also fascinated to find that Christmas Disease was named for Eric's son, the first documented patient with this form of hemophilia. He instilled in his students, both undergraduate and graduate, the necessity of striving for excellence in performance. He was honest and forthright with young actors in teaching them the intense, detailed process of discovering the meaning of a text. He approached acting as a discipline, almost a science, of unearthing meaning from the playwright's words, rather than always from the emotions evoked by a character. Faculty and students drew strength from knowing that a man of Eric Christmas' caliber was part of theatre at UC San Diego. The programs he developed were a testimony to his absolute dedication to the highest quality in dramatic art.

He continued his professional work, both directing and acting, during his tenure at UC San Diego, and was always an excellent ambassador for the university in the outside world of theatre. His service to the community and to the university was extensive. He served at UC San Diego on the Committee on Public Ceremonies, as well as the SEPA Committee, as consultant to the Mandeville Center Committee and the UC San Diego International Center. Eric continued to act in the film and television industries while at UC San Diego and even acted in several UC San Diego productions such as Trelawny of the Wells and Our Town. In 1983 he performed a great service to the University when he took his production of Shakespeare's Love's Labours Lost on tour to the campuses at Irvine and Santa Barbara (supported by the Intercampus Cultural Exchange Program). The reaction was overwhelmingly positive for both audiences and participating students.

His many roles in film include All of Me co-starring Steve Martin and Lily Tomlin, Attack of the Killer Tomatoes, Air Bud, Mousehunt, The Andromeda Strain, The Philadelphia Experiment, Middle Age Crazy, The Changeling, An Enemy of the People, three Porky's films, and a memorable turn as the priest in Harold and Maude. In television, he had numerous appearances on such shows as Ally McBeal, ER, Seinfeld, Coach, Matlock, Night Court, Wings, Cheers, Home Improvement, and danced with Julie Andrews in her series Julie, among many others. He was well known for his repeated performances of Bardolph in the Henry plays, Scrooge and Frosch, the comic tailor in Die Fledermaus.

At his passing, he was married to Marcy Mattox Christmas. He had three children and five grandchildren from a previous marriage.