Chris Parry
Faculty In Memoriam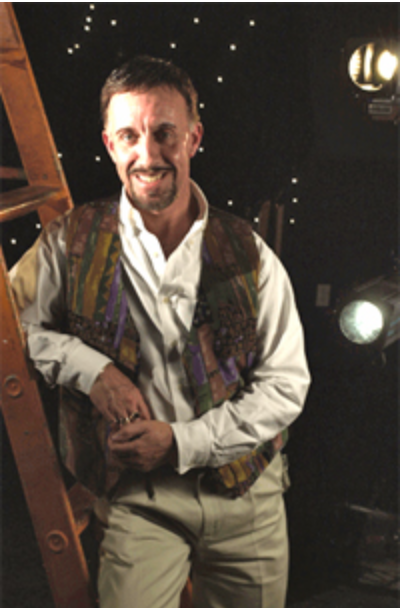 9500 Gilman Dr
Mail Code: 0344
La Jolla , California 92093
Biography
Biography
Chris Parry (May 23, 1952 – January 16, 2007) originally trained in England and worked for the Royal Shakespeare Company for 13 years. He lived and designed in the United States from 1989 to 2007.

He designed theatre and opera internationally for 30 years, earning the prestigious U.S. Tony Award and the British Olivier Award, and 25 other major awards and nominations. His work included over 160 British and U.S. regional theatre and opera designs, as well as several Broadway productions. Highlights included 24 productions for the Royal Shakespeare Company (RSC) and Royal National Theatre (RNT) in England, as well as work for the Los Angeles Opera, Welsh National Opera, Houston Grand Opera, Opera Theatre of Lucca (Italy), Guthrie Theatre, Hartford Stage, Oregon Shakespeare Festival, The Shakespeare Theatre, Seattle Repertory, Milwaukee Repertory, Hartford Stage, The Alley Theatre, The Mark Taper Forum, The Ahmanson Theatre, South Coast Repertory, The Old Globe, and La Jolla Playhouse San Diego, among others.

Notable production credits included The Who's Tommy (Broadway and worldwide) directed by Des MacAnuff, which garnered Parry the Tony Award, Olivier Award (London) Dora Award (Canada), New York Drama Desk Award, New York Outer Critics Circle Award, Los Angeles Drama Critics Award, and several other nominations; the musical Jane Eyre (Mirvish Co. Toronto and La Jolla Playhouse); Not About Nightingales (London and Broadway) directed by Trevor Nunn -- for which he earned a Tony Award nomination, NY Drama Desk Award; Translations (Boston, Broadway); Les Liaisons Dangereuses (RSC, Broadway) -- a Tony Award nomination, NY Drama Desk Award; A Midsummer Night's Dream (RSC, Broadway and World Tour) -- Olivier Award nomination. Other work included a section of the movie Renaissance Man and the KPBS Television Arts program Center Stage. Mr. Parry also won the Lighting Designer of the Year Award (1994) from the journal Lighting Dimensions International, and owned his own entertainment and architectural design company, Axiom Lighting, Inc. in San Diego, CA.

Mr. Parry taught at UC San Diego for 18 years, and was the Head of Design until his death.


Tributes
A Tribute to the Life of 

Chris Parry:
Let There Be Light
MEMORIAL Was Held On: 
Sunday, January 20, 2007
UC San Diego TRIBUTE Was Held On: 
Sunday, February 25 2007
Eulogy by Allan Havis
My five year old daughter Simone asks all the time where is heaven and my wife Julia and I tell her that heaven is in the sky – and we all go there.  But when I look around the room today it's clear to me that heaven also exists here – in all our hearts and our love for Chris.  I cannot believe he's gone from our lives.
Stanislavski and Kierkegaard, in their writings, both alluded to the powerful contradictions within the individual.   What appears paradoxical to the mind only adds profundity to our view of the human soul.  Chris was a wonderful husband and father, a dedicated friend, a brilliant artist and teacher with exquisite human contradictions.  This is why we love him so much and will always love him.
For 18 yrs we had an amazing friendship.  We both journeyed a long distance to join UCSD and we built a new extended family in the process.   After a life in England, Chris found California to be his paradise.  We traveled several times to fun places like San Francisco, LA, New York, and Austin Texas.  We've met once or twice at Stratford when he was designing for the RSC.  It was a joy to be anywhere with him and with his laughter.
We shared the same irascible German theatre agent for many years, Helen Merrill, who would announce herself on the phone in her rich accent from her sub-street level New York office – "Helllo, this is the ol' lady in the dungeon".   Chris wondered if she really was on the up and up.  We owned cats from the same litter.   We had different tastes in music – He liked the PET SHOP BOYS and I like Van Morrison.  We traded CDs just for the hell of it.
Every ten years Chris thought he had to make a major career transition.  Before the RSC, he was with the British Post Office. He imagined after UCSD, he would either run a bed and breakfast in a pastoral setting like Napa/Sonoma, or perhaps move to exotic Thailand.  He took up bartending classes.  Was he thinking he was Tom Cruise?

In the early years at UCSD we had "boys night out" with Steven Adler & Andrei Both.  We even went bowling.  Can you imagine Chris bowling?   Actually, he wasn't a bad bowler.  Around the December Holidays, Chris, Viv and Richard had us over for Boxing Day and New Years Eve year after year.  Look, I'm a New York Jew and I had no idea what you do on Boxing Day.   Bring sparring gloves?   
Frequently we traded expertise – I would act like his financial stock advisor and he in turn helped me countless times with computer troubles.  He got the better of the deal.  Every stock tip I gave him was totally dreadful.   But he was always there to help.  He even designed our bathroom ceiling lights.   He always gave me new scripts to read from his shows and each script had terrific little Chris Parry notes which I treasured.
Okay.  Money.  Chris wasn't the best tipper.  Yes, he was grand with his art and with his friendships and with his time, but he was admittedly a stingy tipper at the restaurant.  And I would have to throw in a few more bucks on the table and I teased him that he had to start tipping airline pilots whenever he flew.
He took up windsurfing and was wild about it.  He loved gadgets.  He was the first to have a cell phone in his car when it was very expensive to have a car phone.   He bought snakeskin cowboy boots in Texas.  You bet.  He came to love the club scene and dancing.   He loved lucid story telling on stage. He never loved post-post modern, incoherent theatre.  He called these shows total crap.  He had a great way of detecting if a production was beyond the pretentious.   He wrote intelligently on many important things, but he never graduated college.  He used to work at the British post office.  Can you believe that?   He was very proud of Richard, Richard's art at the piano, and, as a boy, Richard had acted on stage with Jeremy Irons at the RSC.
I've had the honor of seeing over a dozen of Chris's shows in this country and in Britain  He sculpted and painted powerful stage compositions through his deep feeling for narrative mood and original perspectives.  He worked with a vast array of the greatest directors in the theatre today.  Chris always supported the play's text and the unifying hand of the director.  He made every director look fabulous.   He enriched each character of the play and the full psychological landscape.   Chris played with light masterly like the finest Dutch painters Vermeer and Rembrandt.   He liked to say as if he coined the expression, "Let there be light!".    His creative explorations made pronounced demands on advanced technology and yet Chris's stage productions rarely appear overwhelmed by technology and machinery.  He was a designer that made actors feel, look, and sound thoroughly outstanding.
He took on a new challenge with the musical Chalawan at the Patravadi Theatre in Thailand.   – an exciting, unexpected direction of aesthetics and Chris found no hesitation to go boldly. 
All of his unforgettable production designs were ephemeral and unique.  In so many ways, he interpreted a tangible world that exists on the cusp of the fantastical.   One simply must call this legal magic and Parry Prestidigitation. Always, Chris managed to teach these breathtaking inventions in his quiet, modest manner to every graduate student and undergraduate students.  He enriched the lives of all of his colleagues at UCSD.
Light and shadow.  Chris taught us the magnificence of traveling between light and shadow.   He heightened our awareness of beautiful, sublime pictures on earth and in the heavens.  Like the major star that he became, Chris's light will live on forever.  God bless him. 
- Allan Havis


Eulogy by Steve Adler
In his play 5th of July, the playwright Lanford Wilson wrote:  "Talk about dying and you wind up talking about living."  Although we have come here today to mourn the passing of our dear friend and colleague, and adored father, Chris Parry, it is his life that I wish to talk about. 
I came to UCSD in1987, and as a transplant from New York City, I found myself, in those first months, working hard to develop lessons for my theatre classes and attending rehearsals, with little time for anything or anyone else.  But in January 1988, I got a phone call one Saturday morning from our department chair, Adele Shank, who said, "You've been complaining that you haven't had time to explore SD and no one to do it with.  Well, we have a guest faculty member here from England who just arrived a few days ago, Chris Parry.  He's here for only eight weeks, and he is as clueless as you are about San Diego—call him and go play together!"  A few hours later, Chris and I were sitting on the bluffs above the Point Loma lighthouse, talking about everything under the sun.  And that, as Bogey said in Casablanca, was the start of a beautiful friendship. 
I quickly discovered the following about Chris: 
Like the high wattage instruments that were his stock in trade, Chris's smile could light up a theatre.
He was a loving husband to Vivien and father to his adored son, Richard, both of whom were back in Stratford, England.  He missed them terribly and couldn't stop talking about them.  I felt that I knew them intimately before I ever met them, so keen was Chris's portrayal. 
He was a consummate theatre practitioner and a brilliant artist.
He was a compassionate and constant friend, and he soon had many here in SD.
He had a wonderfully dry sense of humor, and loved to gently tease and be teased. 
It was impossible to cook for Chris because I was a vegetarian and he hated most vegetables, especially cooked carrots.
He thought that Blackadder was the greatest series since the invention of television. 
He disliked reading plays.  He wanted to get his hands dirty in tech rehearsals, where his contributions could take concrete shape—"Just tell me the story!" he would demand. 
When Chris returned to Stratford in early March, he invited me to fly over a few weeks later to spend spring break with him and Viv and Richard.  It was on that trip that he introduced me to the Royal Shakespeare Company, where he was deputy head of stage electrics in the Royal Shakespeare Theatre—as well as an accomplished designer.  Thanks to Chris's continued behind-the-scenes ministrations on my behalf, I was able to spend considerable time there over the next several years, and my book about the RSC could never have been written without Chris's loving aid.  He wrote the foreword to the book, an invaluable contribution on top of his selfless assistance in guiding me through the world of the RSC.
Less than a year later, Chris was back in SD, family in tow, to begin his new life in America.  He had first discovered the Golden State a few years earlier, during a national tour of Nicholas Nickleby, and now that he was here permanently, he embraced his California doppelganger.  He knew, from that first visit, that he could easily become a sun worshipper, preferring it to the climate in England, which he characterized as "always pissing down rain," and he reveled in every chance he got to lie flat on his back in a beach chair.  I think he had a harder time with California cuisine, though—anything that smacked of healthy eating was anathema to Chris. When my wife and I would have him over to breakfast, he would ask if we would be serving our "seven-grain, hemp-and-flax cardboard granola," or however he referred to it, and then show up with a box of Kellogg's corn flakes in hand.  But despite the fact that Chris and I had wildly divergent opinions about food, I never doubted his friendship, his love, his affection, and his constancy.  If Chris was your friend, you knew that you could count on him for everything that true friendship implies—rewiring a broken lamp, helping you move to a new house, consoling you over the breakup of a relationship, and designing the lights for a studio show you were directing because he was the best there was, even though he had many other commitments.
He was a complete stranger to the American university system, and while he constantly "whinged"—another favorite Chris-ism—about our peculiar bureaucratic methodologies, he displayed the admirable ability of initially coping with and then flourishing in a system that was so alien.  He quickly proved himself to be a "natural" as a teacher and mentor, and soon, students from around the nation began to realize that UCSD had a Tony winning lighting design professor who could reveal to them the secrets of his art.  We know how effective he was as a teacher and mentor, because we have admired the work of so many of his students at both UCSD and theatres around the nation.  It was Chris's presence, I know, that helped catapult our Department of Theatre and Dance to the highest echelons of graduate training programs in the nation.  He gently guided his students to the discovery of their own artistic voices, and never attempted to create Chris Parry clones.  The American theatre is richer for the accomplishments of this next generation of artists whom Chris helped to mold.  Chris always took great pride and joy in the accomplishments of his students—they were heirs to his artistic DNA, but they were their own selves. 
I would like to talk a bit about Chris's lighting, for Chris was a consummate artist.  He had the gift of designer second sight, if you will; he truly understood the alchemy of lighting design, of transforming the flow of electrons into a dazzling, dimensional world of light and shadow.  He created universes as diverse as an 18th C. French chateau, a 15th C English battlefield, a 20th C southern prison, an incandescent enchanted forest of floating lightbulbs, and a rock-and-roll landscape of larger-than-life pinball machines.  When I saw his work live for the first time on my visit to England that spring of 1988—it was Les Liaisons Dangereuses, for which he had been nominated for a Tony Award a few years earlier in New York—I realized that my friend had the soul of a poet.  His illumination and sculpting of Bob Crowley's set and costumes and Howard Davies's staging was nothing short of breathtaking.  I would later have the pleasure and honor to work with him on two shows at La Jolla Playhouse, and during each experience Chris proved to be exquisitely intuitive.  He knew, in every fiber of his being, how to exploit his palette of light to create the most expressive dramatic environment imaginable.  Directors and designers loved to collaborate with him, because they knew that Chris was a selfless colleague who was fiercely dedicated to the creation of a seamless and unified dramatic event. 
Chris's most significant accomplishment, however, greater than all of his marvelous designs, was his collaboration with Vivien.  It was his son, Richard.  Although Chris was not inclined by nature to be verbally expressive about his emotions, he adored his son and took great pride in all that Richard did.  Whenever Chris spoke of Richard, his eyes lit up like pin spots.  Chris, despite his inclination to default to his native English reserve, was a very passionate man.  We saw it in his lighting, in his teaching, and especially, in his love for his son.  This pride of and love for his son was something he gladly trumpeted to those around him.  He always characterized Richard as mature, independent, good-natured, supportive, and kind.  And when DeAnna joined the family, Chris enthusiastically acknowledged that she was the perfect partner for Richard, and Chris found great joy in them both.  I know how devastated they are by the loss of their dear father, and I hope that they can be comforted by the fact that Chris worshipped them both. 
Chris Parry will be missed mightily by his friends, colleagues, and family—his theatre family around the world and by Vivien Gregg, Richard and DeAnna, and his stepmother Noelle in Wales.  He was a remarkable man, a singular artist, a devoted friend, and a beautiful soul.  I remember standing on the balcony of Galbraith Hall at UCSD with Chris one evening years ago, and another gorgeous SD sunset was playing on the horizon.  We admired the heavenly display of lighting prowess—it was that kind of celestial beauty that Chris aspired to in his work, and I think, achieved.  I now know that sunsets will be a little more profoundly beautiful because Chris will surely have his hand in them.
- Steve Adler