Epicene: A Queer Extravaganza

Epicene: A Queer Extravaganza
(sort of) by Ben Jonson
adapted from Ben Jonson's
 

Epicoene, or The Silent Woman

 

by Emmalias, Jesse Marchese, and the company.

 
Performance Dates
March 3rd, 4th, 5th, and 6th at 7:30pm PST


March 6th at 2:00pm PST
 
Method of Presentation and Ticketing
PLEASE NOTE: All performances start at the times they are listed. Please come on time (there is no rewind) Thank you. 
The Cast
Grossie Morosie: Ben Little
Daphne: Juliana Scheding
Amir: Amir-Ali Aftabi
Truitt: Alex Savage
Stephen/Epicene: Stephen 

Loftesnes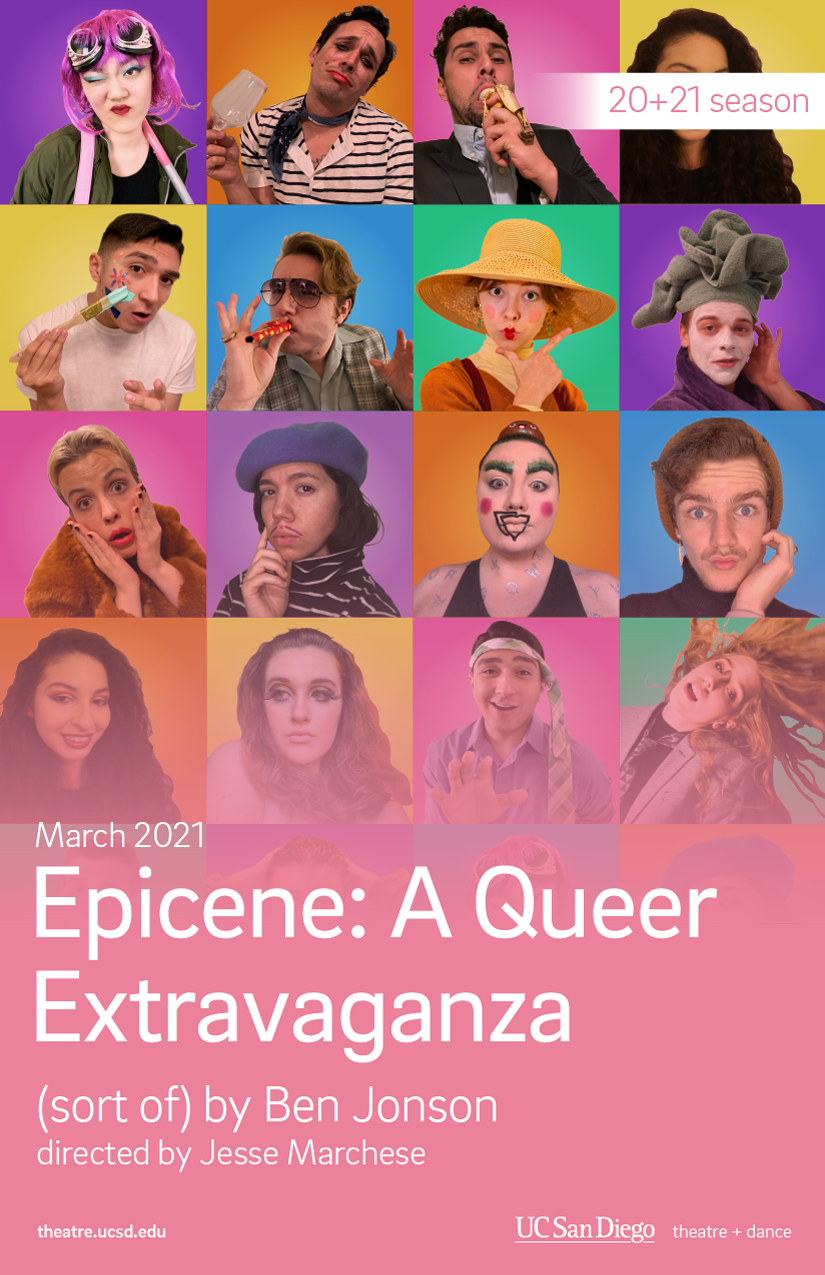 J-Daw: Sophia Donner
Lacoste: McKenna
Mr. Ambiguous: Diego Gonzalez
Mrs. Ambiguous: Alana Burgess
Haughty: Vrinda Moujan
Bawdy: Hannah Clift
Naughty: Brianna Maloney
Slash: Naomi Louie
On Mute/Lucy: Linda Lucia
The Creative Team
Assistant Directors: Jaz Johnson & Rhett Salerno
Dramaturg: Emmalias
Set & Props: Kaitlyn Dunn
Costumes: Grace Wong
Lighting: Stella Hill
Sound: Caleb Foley
Production Stage Manager: Gillian Lelchuk
Assistant Stage Managers: Meghan Stern, Rickie Farah, Jonathan Fong
Click  image to view full program
About the Play
A wicked and elaborate farce roaring with delicious surprise, Ben Jonson's Epicoene, or The Silent Woman (1609) tells the story of the aptly-named Morose, an old bachelor with a severe aversion to noise who marries a "silent woman" to deny his nephew a substantial inheritance. When the quiet lady turns out to be anything but, the stage is set for gender-bending and boisterous antics. With biting wit and sharp satire, Jonson explodes the sexual and gender binary. In our queer, irreverent, contemporary adaptation of the play, Jonson's radical, youthful, and anarchistic comedy is a biting takedown of stifling heteronormative values and a revolutionary celebration of all that is queer.


About the Playwright
Ben Jonson was an English playwright and contemporary of Shakespeare whose artistry exerted a lasting impact upon English stage comedy. He popularized the "comedy of humours" and is best known for the satirical plays Volpone, or The Fox (1606), The Alchemist (1610), and Bartholomew Fair (1614) and for his lyric and epigrammatic poetry. If we went back in time and asked Jonson if he were queer, he would have no idea what we were talking about—but no matter—his play is decidedly queer in its celebration of deviant sexualities and nonbinary gender identities. Our production of the play has been freely adapted by the dramaturg, director and company of actors.
Director's Statement

"Camp is the triumph of the epicene style. (The convertibility of 'man' and 'woman,' 'person' and 'thing.') But all style, that is, artifice, is, ultimately, epicene."
 
-Susan Sontag,

 

Notes on Camp

In many ways, the early modern era was as queer and avant-garde as our current moment. Ben Jonson's 
Epicoene, or The Silent Woman
 is proof of that. One could argue that the play reinforces heteronormative ideals—as scholar Richmond Barbour writes, "many critics find the relevant Jonson in the finales, reimposing patriarchal strictures. But without unruliness, terminal rigor has nothing to clarify; wantonness must first be mobilized before it can be expelled." In our queer, irreverent, and contemporary adaptation, the "unruliness" and "wantonness"—or, rather, 
queerness
—of Jonson's play is indeed mobilized, but never clarified or expelled. Instead, our 
Epicene: A Queer Extravaganza
 fully indulges in queerness—both celebrating and satirizing its gallery of queer deviants. Our production reimagines the play as a celebration of queerness—highlighting its ruminations on the joys of queer sex and its celebration of gender non-conformity. It also aims to decenter and problematize our very notion of queer identity, asking instead, "what does queer do?" We have adapted the play, playing fast and loose with Jonson's dialogue while applying a queer, twenty-first century lens to its characters and themes. We have also embraced queer theory, such as Jack Halberstam's concept of queer failure, and an interest in queer "camp" aesthetics through production. Throughout our process—and in the true spirit of "queering"—we have decentered the play's canonical, white, (presumably) hetero, cisgender, male author and embarked on an exercise in further queering the already-queer canon.