The Nether
 by Jennifer Haley
directed by Jim Short/PhD Candidate


This show is part of Quartet, a new performance opportunity of four productions presented in rotating rep with smaller cast sizes, a greater diversity of content, and specifically for the Undergraduate area. 
Content Warning: This play contains explicit language and themes/suggestions of violence and sexual assault and pedophilia.
  
Performance Dates
Showings: December 9, 10, 11 &12 @ 7:30pm
Method of Presentation and Ticketing
Presented on our digital platform. Please RSVP via this Google Form. Tickets are free of charge.
The Cast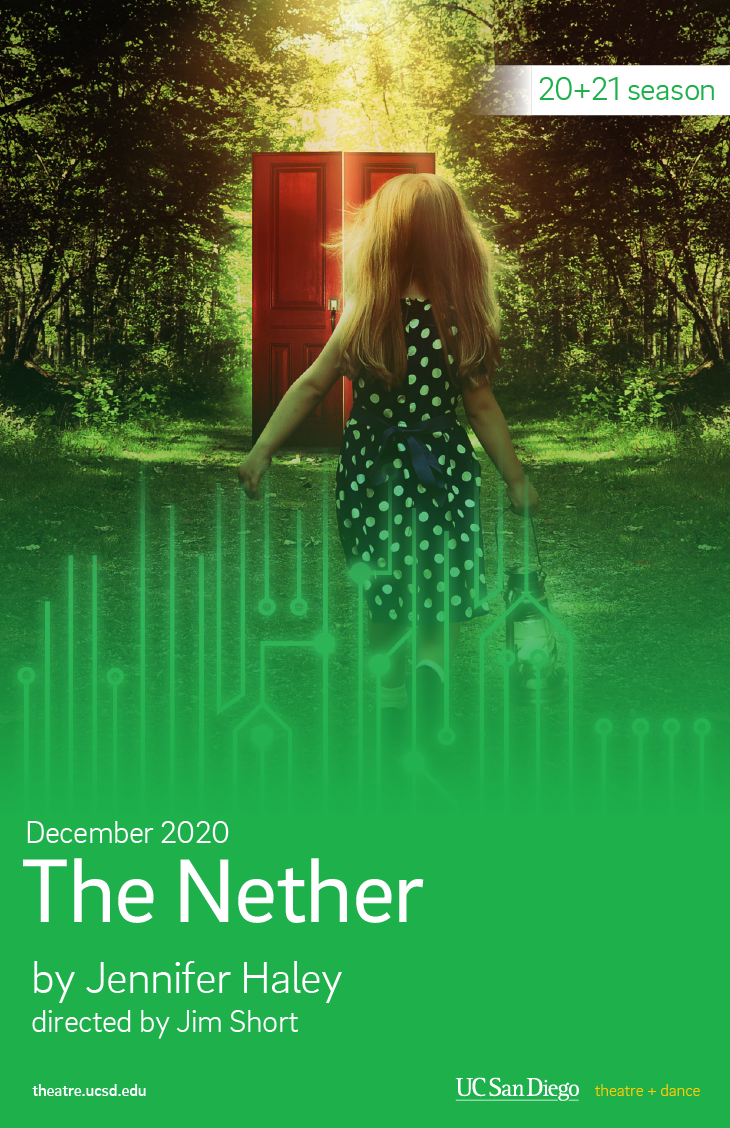 Papa/Sims: Alex Savage
Iris: Kelly Hatfield
Morris: Meg Farinsky
Doyle: Riohn Jones
Woodnut: Ben McLaren
The Creative Team
Director:
Jim Short
Assistant Director: Lily Tholfsen
Stage Manager:
Gemma Maliszewski
Scenic Designer:
Michael Wogulis
Video Designer: Nancy Chao
Sound Designer: Hailey Brown
Lighting Designer: Stella Hill
Assistant Stage Manager: Meghan Stern
Assistant Sound Designer: Marisa Viola
Assistant Scenic Designer: Tess Jordahl
Emotional Fitness Consultant: Zev Steinrock
Production Assistant: Ruby Hays 
Production Assistant: Kate McLeod
First-Person Camera Op for Iris: Chelsey Andrade
First-Person Camera Op for Papa: Meg Farinsky
Camera Op for Riohn Jones: Diego Gonzalez
Camera Op for Alex Savage: Gabe Furchner                                                       
Click  image to view full program
Film Assistant for Ben McLaren: Vrindavani Moujan
Film Assistant for Ben McLaren: Arianna Fawk
About The Nether 
 As technology advances, we are increasingly pushed to consider, draw, evaluate, and re-draw the lines by which we understand the distinction between reality and imagination; between object and idea. Jennifer Haley's The Nether forces us into the (near) future when digital avatars and online realms offer new potentials for not only work and play, but also for the exploration of anything that one might dream. Join us and plug into the Nether. Evaluate for yourself if imaginary relationships can have real meaning as you skirt the edges of digital ethics and real-world morality. 
About the Playwright
Jennifer Haley is an American playwright whose work often focuses on ethics and technology. The Nether is her most notable play; it has been produced in twenty one countries and translated into fifteen languages. It won the 2012 Susan Smith Blackburn prize and seven Los Angeles ovation awards. She is a member of the New Dramatists and the founder of The Playwright's Union in LA. Her other works include the plays Neighborhood 3: Requisition of Doom and Froggy, as well as the television shows Hemlock Grove and Mindhunter. 
About the Director
Jim Short is a PhD candidate in Theatre and Drama. As a scholar, his research interests include the commedia dell'arte, masking, embodiment and corporeality, children studies, and theories of risk. These areas of interest have continually infused Jim's practice, which is guided by a strong physical vocabulary and a willingness to play with bold risks. As a practitioner, Jim has worked as an actor, director, and educator specializing in performances for/by/with children as he worked for the National Theatre for Children, Lexington Children's Theatre, Arkansas Arts Center's Children Theatre, and InSight Theatre. Working to stay active in the larger San Diego area, Jim had the pleasure of serving as dramaturg for the San Diego Rep's Vietgone and worked with new project development with the Native Film and Storytelling Institute. UC San Diego credits: Anansi the Story King (AD), The Venetian Twins (AD), Jefferson Middle School Monthly (Dramaturg, WNPF '19), Streamers (Dramaturg).
Mental Health Resources