As You Like It
by William Shakespeare
directed by Emily Moler/MFA2 Director

This show is part of Quartet, a new performance opportunity of four productions presented in rotating rep with smaller cast sizes, a greater diversity of content, and specifically for the Undergraduate area. 

 
Performance Dates
Preview: December 1 at 7:30PM
Showings: December 2, 4 & 5 at 7:30PM
Method of Presentation and Ticketing
Presented on our digital platform. Please RSVP via this Google Form. Tickets are free of charge.
The Cast
Rosalind: Alexa Maris McGinnis
Celia: Hannah Milon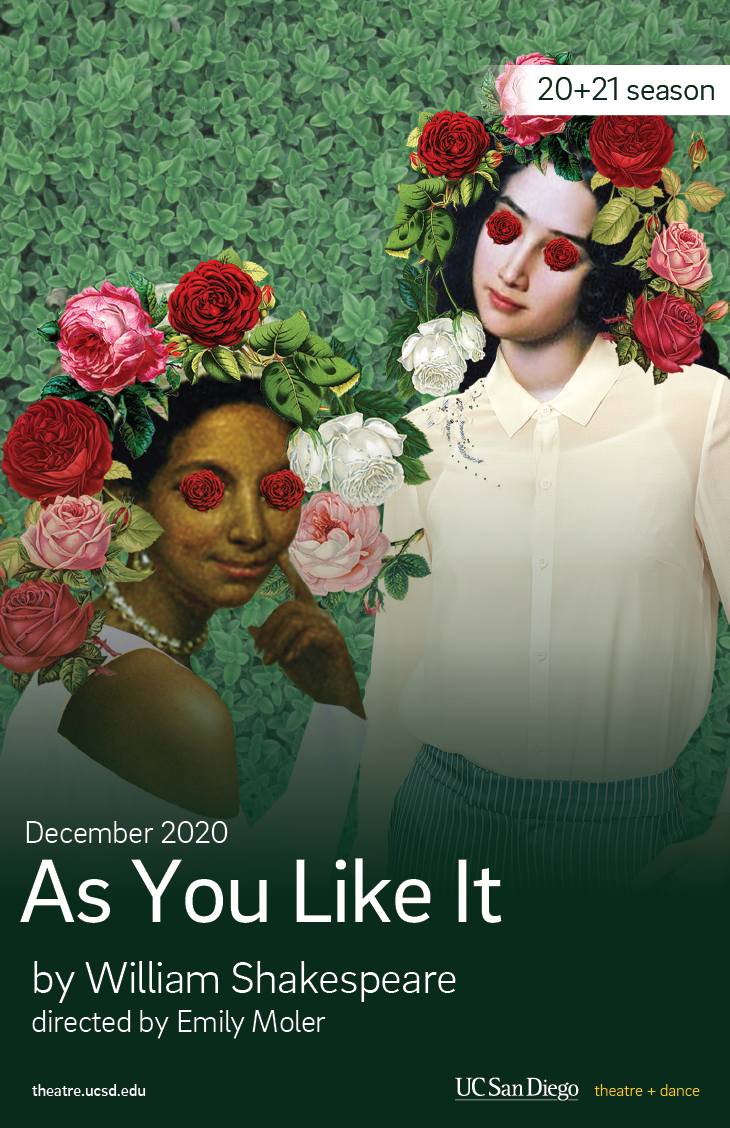 Orlando: Seth Gunawardena
Touchstone: Diego Gonzalez
Jaques: Jaz Johnson
Oliver/William/Lord: Clarence Lightfoot
Duke Fredrick/Duke Senior: Zane Camacho
Corin/Charles/Jaques de Boys: Sophia Donner
Adam/Silvius/Oliver Marxtet: Stephen Loftesnes
Amien/Audrey: Sabina Fritz
Le Beau/Phebe/Lord: Lisette Velandia
The Creative Team
Director: Emily Moler
Assistant Director/Choreographer: Meghan Ripchik
Stage Manager: Allison Bailey
Assistant Stage Manager: Nicole Kim
Assistant Stage Manager: Lauren Choo
Costume Designer: Euihyun Song
Lighting Designer: Shelby Thach
Assistant Lighting Designer: Harrison Foster
Composition: Andrew Lynch
Script PA: Emmalias
Click  image to view full program
Director's Statement 
How can we run at joy, love, and self-discovery when the world around us feels like it is falling apart? As You Like It tells the story of a group of free spirits who escape from an oppressive court to find themselves in a fantastical and transformative world. The play celebrates love in all its embarrassing, messy, thrilling forms. It celebrates wit, humor, and poetry. Most of all, it celebrates the necessity of self-discovery. Due to the coronavirus pandemic and current social upheaval we are getting a chance to slow down, to turn inward, and to ask ourselves if we're truly living up to our own values. In this production of As You Like It, we'll see a group of students turn to performance, turn to distraction, and turn to play as a method of unpacking the collective trauma of the pandemic. As You Like It will be a celebration of theatricality and performance in 2020 and will unfold through a combination of low-tech and high-tech theatrical techniques. We will use the strict and numbing platform of zoom to teach us about the oppression of the world of the court and then juxtapose it with an exploding, vibrant, and surprising forest of Arden with an analog feel built by the students putting on the play. We all deserve a good laugh right now and this production that embraces some big-hearted silliness but never loses a sense of the world that we're creating it in. This 400-year-old play and the vibrant characters who live inside it teach us that sometimes you have to play a little pretend to find your true self.
Company Bios
Emily Moler (Director)

 is a second-year Directing MFA student previously based in Brooklyn NY. Selected credits:

And We're Live

,

Coffee Break

,

The Patriot

, and

MINUTES_12/2/08.doc

(Actors Theatre of Louisville),

Guarding

(The PIT),

Chamber Music

(Self-produced, featuring an updated script created in collaboration with Arthur Kopit),

Untitled American Flag Craft Project

and

Good Cry

(The Brick), and

The Troll King

(Pipeline Theatre Company). Recent assistant and associate directing credits include

The Thin Place

(Les Waters),

How to Defend Yourself

(Marti Lyons),

Pipeline

(Steve H. Broadnax III),

The Curious Incident of the Dog in the Night-Time

(Meredith McDonough),

Peace for Mary Frances

(Lila Neugebauer). Moler has developed new work with Joe's Pub, Night Vale Presents, The Bushwick Starr, Ars Nova, Heartbeat Opera, 3-Legged Dog, The Duplex, and Dixon Place. Emily is a graduate of Skidmore College where she earned her BS in Directing.