Letters from Cuba
by María Irene Fornés
Performance Dates
Preview: November 14 @ 7:30pm PST

Showings:
Live: November 19, 20, 21 @ 7:30pm PST
Recorded: November 23, 24, 25 @ 5:30 PST
Method of Presentation and Ticketing
Presented through Zoom, Letters from Cuba will be a live, virtual performance.  Please RSVP via this Google Form.  Tickets are free of charge.
The Cast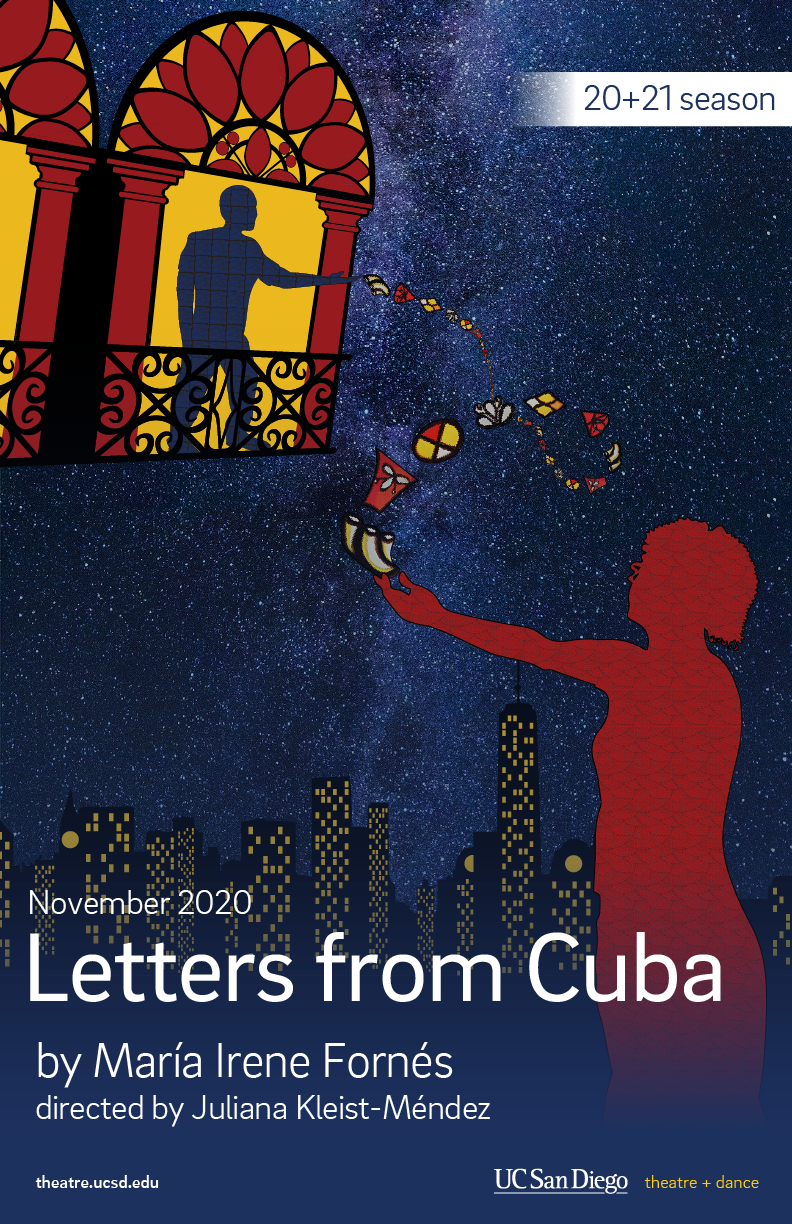 Enriqueta: Natalia Quintero-Riestra
Fran: Jada Owens
Luis: Damien Coates
Joseph: Cody Sloan
Marc: Jordan Smith
Jerry: Ángel Miguel López
Gerardo: Ryan Martinez
The Creative Team
Director: Juliana Kleist-Méndez
Stage Manager: Emily Searles
Production and Video Designer: Elizabeth Barrett
Costume and Animation Designer: Natalie Barshow
Lighting and Projection Designer: Harrison Foster
Sound Designer and Composition: Andrew Lynch
Animation: Miranda Friel
Dramaturg: Jon Reimer
Assistant Director: Alexa Mark
Assistant Stage Manager: Gillian Lelchuk
Assistant Lighting Designer: Shelby Thach
Assistant Sound Designer: Salvador Zamora
Click  image to view full program
Director's Statement
The world feels like it is in the midst of crumbling around us.  The islands of our habits and sanity have been buffeted by tempests of change. 
We have so many varied ways of coping: 
We lose ourselves in work. 
We take up new hobbies. 
We reach for our loved ones. 
We dream about long-awaited reunions. 
 Letters from Cuba is a dance of desire between past and present. It flows back and forth between a brother in Cuba and a sister in New York City, yearning to be in the same place at the same time. With this play, María Irene Fornés questions: how do we reach for stability in a world where we are constantly being thrown off balance?  A question that each one of us must answer on a daily, perhaps hourly, basis right now. 
Yet, instead of revealing a magic blueprint, this play's scenes are messages in a bottle from another time. They invite You, our brave viewer, to craft meaning from them. You are the seeker, the explorer, the artist, who ultimately has the power to make sense from disparate facts, contradictory moments, and conflicting narratives. You have the power to make harmony from chaos. 
About the Director
Juliana Kleist-Méndez is an Iowa-born Cuban American committed to embodied storytelling collaborations previously based in Brooklyn, NY. She is currently pursuing an MFA in Theatre Directing at the University of California: San Diego.  She has dedicated her career to immersive new work projects, making stories in locations ranging from historic homes to naval training camps. Selected projects include Rain Upon Remembrance (Cornell University); La Hija del Pirata at The Flagship Brewery (La Pirata Productions), and Calafia at Liberty at the U.S.S. Recruit (La Jolla Playhouse's Without Walls Festival).  Juliana has also worked with new playwrights across the US: Far From Canterbury (Winner of Best Musical: New York International FringeFestival; and selected for Encores! at The SoHo Playhouse); King Lear: A Radio Play (The Framework Theatre, Chicago); Elvira: The Immigration Play with Si Se Puede Productions (CollaborAction Theatre Company, Chicago); Club Silencio with the Cuban Cultural Center of New York (Manhattan Repertory Theater). During her time in California, she has partnered with SanDiego Rep, assistant directing on The Humans and directing a reading of Aztec Pirates and the Insignificance of Life on Mars. At UCSD, she has directed An Iliad; Duchess! Duchess! Duchess! (Wagner New Play Festival); Elektra; and collaborated on the intimate, immersive Zoom performance, The Gathering. Letters from Cuba is her thesis production. Para abuelita.
María Irene Fornés
Letters from Cuba is a play about the future, veiled in a play about the past.  María Irene Fornés knew deeply what it meant to long for family, for a homeland, for creative inspiration, and ultimately, for love. Born in Cuba in 1930, as a teenager she moved to New York with her mother and her sister, leaving behind four siblings. As her last play, Letters from Cuba premiered as the centerpiece of a season dedicated to her at Signature Theatre in 2000. It is based on actual correspondence between her and her brother who remained in Cuba for his whole life. 
For more information about her life, a full list of her plays, scholarship around her writing, and her effect on shaping the current landscape of American Theatre, please visit The Fornés Institute. 
Curious to enrich your knowledge of Irene and her Legacy?