The Elaborate Entrance of Chad Deity

The Elaborate Entrance of Chad Deity
by Kristoffer Diaz
Performance Dates
February 18 & 19 @ 7:30pm
February 19 @ 2:00pm

  
Venue
Arthur Wagner Theatre
Content Warnings
Flashing Lights, Strobe, Violence, Sudden Loud Noises, Hate Speech (Race, Religion), Strong Language, Slurs, Islamophobia, Racism, Sexism, Xenophobia, Colonialism
Ticketing
Please contact our virtual box office at tdpromo@ucsd.edu if you need help with a promo code.
Please note: for Winter performances, only active UCSD community members (students, faculty, staff) may purchase tickets.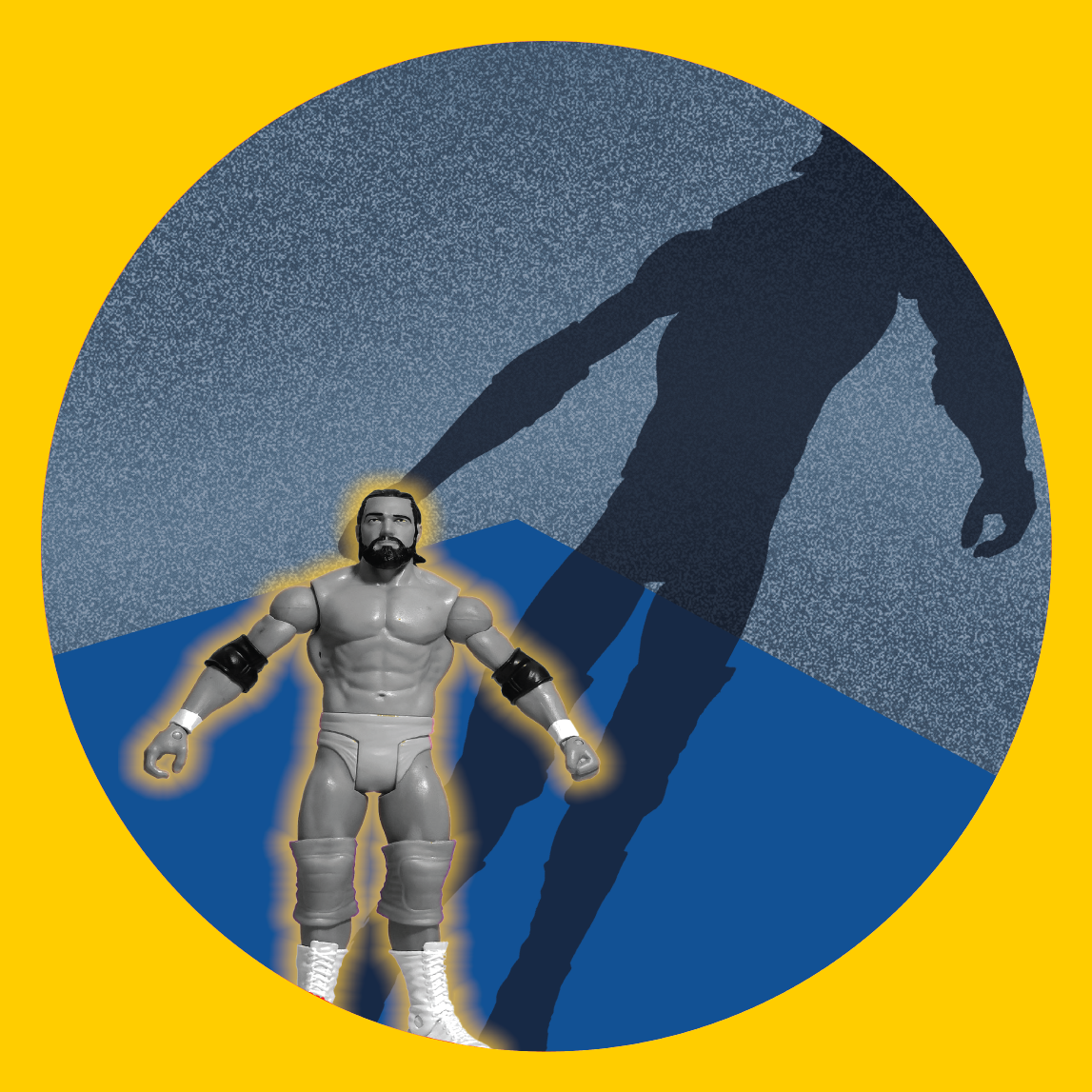 Click image for a full digital program!
The Cast
The Creative Team
Director:

Rosie Glen-Lambert
Scenic Designer: Raphael Mishler
Costume Designer: Elise Wesley


Lighting Designer: Russell Chow


Assistant Director: Alexa Hurtado
Sound and Video Designer: Ethan Eldred


Assistant Costume Designer: Tess Twomey




Assistant Lighting Designer: Sydney Primeaux


Assistant Lighting Designer: Stephaney Knapp
Assistant Sound Designer: Caleb Foley
Assistant Video Designer: Joseph Stommel


Production Stage Manager: Jonathan Fong




Assistant Stage Manager: 

Jaz Johnson




Assistant Stage Manager: 

Avery Simonian


Voice and Text Coach: Ursula Meyer
Production Assistant: Alexa Maris McGinnis

Director's Statement
In an industry that has been notoriously steeped in racism, sexism, and homophobia, Puerto Rican Professional Wrestler Macedonio "The Mace" Guerra is desperate for the opportunity to honor what drew him to wrestling as a child: community, teamwork, and-above all else-storytelling. Because he is the organization's most skilled and convincing performer, Mace is always choreographed to lose his fights. Even worse, he is given no control over the characters he plays or the messages he sends-that's up to EKO, his offensive and opportunistic white boss. When he teams up with Vigneshwar "VP" Paduar, a charismatic Indian-American rookie, it seems he may finally have the opportunity to do what he's always wanted: control his own narrative and tell one perfect story. The Elaborate Entrance Of Chad Deity is a play about agency, representation, toxic masculinity, and the beauty of men working together. In this production of Chad Deity, the spectacle of the enormous ring has been swapped for a tiny toy replica, the male actors manipulating action figures that represent their characters whenever it is time to "fight". What better way to grapple with the questions the play poses than by watching five men sitting in a room playing with dolls?
About the Director
Rosie Glen-Lambert (she/her) is a first-year MFA student and theatre director originally from Los Angeles. She is the Artistic Director and Founder of the award-winning, Los Angeles-based theatre company The Attic Collective. Prior to beginning her graduate education, Rosie served as the Literary Manager of Inkwell Theater, a Los Angeles-based company that specializes in the development of new work. Rosie is known for her inventive storytelling, her "more is more" approach to props, and her commitment to the collaborative process.
Everyone sees movies. Everyone goes to concerts. So why is it that theatre is the art form that has been rejected by so many as stodgy, unwelcoming, and "not for" them? Rosie wants to make up for that bad production of Two Gentlemen of Verona you were forced to watch in middle school. She believes theatre should be relevant and inclusive, which has led her to a deep appreciation for new work, devised performances, and purposeful productions and reimaginings of classic works. She is committed to building a world where everyone sees the theatre as being a place where they belong by creating performances that are engaging, inclusive, and relevant.
Rosie received her BA in Theatre Arts from UC Santa Cruz in 2014. Shortly before leaving Santa Cruz to move back to her hometown of Los Angeles, she formed The Attic Collective, a theatre company devoted to new work and devised performances. In 2015, her theatre company's production of "Dead Dog's Bone" won the Encore Producer's Award at the Hollywood Fringe Festival, with Rosie nominated for Best Direction. "The Last Croissant", her second Hollywood Fringe Festival production with The Attic Collective in 2019, was nominated for numerous awards and won Best of the Broadwater, Best Ensemble Production, and the coveted Top of the Fringe Award.
Rosie has worked as a director, assistant director, dramaturg, producer, and theatre educator at theatre companies across and beyond Los Angeles, including Bootleg Theater, Portland Center Stage, Sacred Fools Theater Company, and Son of Semele Ensemble. She was named a 2020 Theatremacher by the Alliance for Jewish Theatre and has been a member of LMDA (Literary Managers and Dramaturgs of the Americas) since 2019. In her work as Literary Manager at Inkwell Theater she created a monthly cold reading series called "Virtual Playwright's Night" which has connected playwrights, actors, and theatre lovers across the world and provided a platform for diverse writers to have their work heard.
Check out her work at: rosieglenlambert.com
About the Playwright
Kristoffer Diaz is a playwright, librettist, screenwriter, and educator. His play The Elaborate Entrance of Chad Deity was a finalist for the Pulitzer Prize in Drama. His adaptation of the Disney film Hercules premiered in Central Park in Summer 2019 as part of the Joseph Papp Public Theater's Public Works program with a cast of nearly 200. Other full-length titles include Welcome to Arroyo's, Reggie Hoops, and The Unfortunates. His work has been produced, commissioned, and developed at The Public Theater, Dallas Theater Center, Geffen Playhouse, ACT, Center Theatre Group, The Goodman, Second Stage, Victory Gardens, and Oregon Shakespeare Festival, among many others. Awards include the Guggenheim, Jerome, Van Lier, NYFA, and Gail Merrifield Papp Fellowships; New York Times Outstanding Playwright Award; Lucille Lortel, Equity Jeff, and OBIE Awards; and the Future Aesthetics Artist Regrant, among others. As a screenwriter, Kristoffer has developed original television pilots for HBO and FX, written for the first season of Netflix's GLOW, and adapted the musical Rent for FOX. Kristoffer holds a BA from New York University's Gallatin School of Individualized Study, an MFA from NYU's Department of Dramatic Writing, and an MFA from Brooklyn College's Performing Arts Management program. He teaches playwriting at New York University. He is an alumnus of New Dramatists and a member of its Board of Directors, a member of the Dramatists Guild Council, and a member of the Writer's Guild of America, East.