Men on Boats
by Jaclyn Backhaus
directed by Emily Moler/MFA 3 Director
Performance Dates
November 17th and 20th @ 7:30pm
November 21 @ 2:00pm

 
Venue
Theodore and Adele Shank Theatre
Ticketing

Please contact our virtual box office at tdpromo@ucsd.edu if you need help with a promo code.
Please note: for Fall performances, only active UCSD community members (students, faculty, staff) may purchase tickets.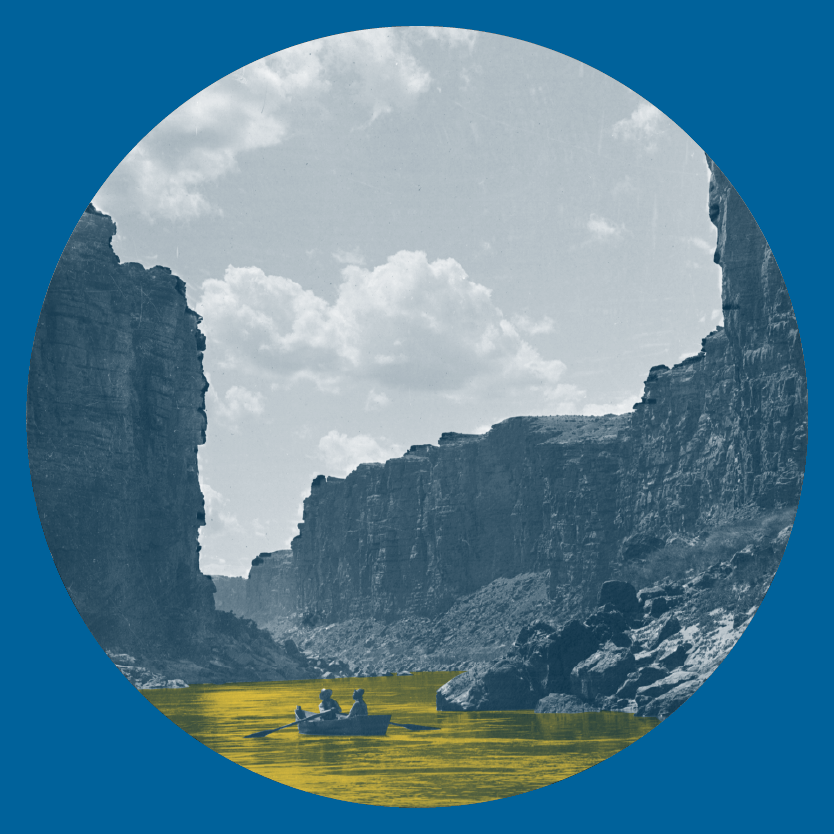 Click image to view a full digital program!
The Cast
Powell: Alexa Maris McGinnis


Dunn: Naomi Jazz Nuñez




Sumner: Alana Burgess




Goodman: Sabina Fritz




Hawkins: Aaronne Louis-Charles




Hall: Vanathi Sundararaman 




Shady: Hannah Clift




OG: Isel Adriana Zarate Tucker




Seneca: Kristine Nguyen




Bradley: Sarah Frazin 

 
The Creative Team
Director: 

Emily Moler


Scenic Designer: Elizabeth Barrett
Costume Designer: Zoe Trautmann
Lighting Designer: Bryan Ealey
Sound Designer: Salvador Zamora


Movement Captain: Olivia Rouss


Assistant Director: Jaz Johnson
Assistant Scenic Designer: Raphael Mishler


Assistant Lighting Designer: Niles Hallie




Assistant Sound Designer: Caleb Foley


Production Stage Manager: Gillian Lelchuk
Assistant Stage Manager: Stephanie Carrizales


Assistant Stage Manager: Karina Ortega


Production Assistant: 

Avery Simonian

  
Director's Statement
Men on Boats is about the quote "discovery" of the Grand Canyon by John Wesley Powell and his crew in 1869. While the crew members of the historical expedition were cisgender white males, the actors who portray them are exclusively not. Female, trans, nonbinary actors, and performers of color get the opportunity to step into these roles, allowing them to subvert ideas of masculinity, manifest destiny, and American exceptionalism while also getting the opportunity to go on an epic adventure. The play asks questions about ambition, competition, discovery, and who we've been told adventure belongs to. This production gives us the opportunity to get dirty, be the biggest versions of ourselves, and carve a space out for everyone in the myth of the west.
About the Director
Emily Moler is a third-year Directing MFA candidate previously based in Brooklyn NY. UC San Diego Credits: End Days, Uncle Vanya, As You Like It, Ironbound. Selected credits: And We're Live, Coffee Break, The Patriot, and MINUTES_12/2/08.doc (Actors Theatre of Louisville), Guarding (The PIT), Chamber Music (Self-produced, featuring an updated script created in collaboration with Arthur Kopit), Untitled American Flag Craft Project and Good Cry (The Brick), and The Troll King (Pipeline Theatre Company). Recent assistant and associate directing credits include The Thin Place (Les Waters), How to Defend Yourself (Marti Lyons), Pipeline (Steve H. Broadnax III), The Curious Incident of the Dog in the Night-Time (Meredith McDonough), Peace for Mary Frances (Lila Neugebauer). Moler has developed new work with Joe's Pub, Night Vale Presents, The Bushwick Starr, Ars Nova, Heartbeat Opera, 3-Legged Dog, The Duplex, and Dixon Place. Emily is a graduate of Skidmore College where she earned her BS in Directing.
About the Playwright
Jaclyn Backhaus is a playwright, cofounder of Fresh Ground Pepper, and new member of The Kilroys. Her plays include Men On Boats (New York Times Critics' Pick, Clubbed Thumb, Playwrights Horizons, published by Dramatists Play Service), India Pale Ale (Manhattan Theatre Club, recipient of the 2018 Horton Foote Prize for Promising New American Play), You Across From Me (co-written with three other writers for the Humana Festival), Folk Wandering (book writer and co-lyricist with 11 composers, Pipeline Theatre Company), and You On the Moors Now (Theater Reconstruction Ensemble), among others. She was the 2016 Tow Foundation Playwright-in-Residence at Clubbed Thumb and she is currently in residence at Lincoln Center. Backhaus holds a BFA in Drama from NYU Tisch, where she now teaches. She hails from Phoenix, Arizona, and currently resides in Ridgewood, Queens with her husband, director Andrew Scoville and their son Ernie.