Liam Clancy
Dance Faculty / Head of Undergraduate Dance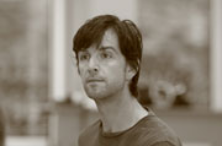 (858) 534-1080
9500 Gilman Dr
Mail Code: 0344
La Jolla , California 92093
Biography
Education
Office
Biography
Biography
As a young artist I wanted to be part of an ensemble where work was made collectively. My earliest and most profound influence was Everett Dance Theater in Providence, Rhode Island. I took my first dance class from the artistic director Dorothy Jungels while an undergraduate at Rhode Island College in 1991. They made work that was smart, surprising and while it dealt with larger issues, was always framed by their history with each other. My own career began as a dancer in Elizabeth Streb's company Ringside in 1995. Between 1998 and 2002 I was making my own work in New York City, primarily as a solo artist. I was inspired by what I was seeing at spaces like PS 122, Dance Theater Workshop and La Mama. The works I saw were mixes and collisions of dance, theater, performance art, storytelling, music, vaudeville and cabaret. In the fall of 2002 I began an MFA in choreography at UCLA and after graduating in 2005 was hired by the Department of Theatre and Dance at UC San Diego to help shape the new MFA in Dance Theatre program. I'm most interested in continuing to shift my arts practice away from known conventions of performance toward a discipline of inquiry that makes discoveries possible and visible, away from the replicated prescribed content, toward practicing disciplines of immediacy to reveal fresh material and meaning. Performances of the moment and in the moment wherever I am and can be, no frills, heavy on content, light on their feet. This approach to art making speaks directly to the things I value most as an artist: entering unfamiliar territory, listening, allowing structure and form to emerge, spontaneity, surprise and an embodied response to 'what's happening in the room', less control, more noticing. Some of my influences include the work and writing of Simone Forti, Mary Overlie, Ann Daly, Deborah Hay, Dan Froot, Anne Bogart and Sally Banes (particularly her writing about Judson Dance Theater). The kind of art I want to make might be described like this:

It doesn't expound, is suggestive rather than exhaustive, depends on gaps, may merely mention. Advances by juxtaposition or sidewinding poetic logic. It often accretes by fragments, taking shape mosaically, its import visible only when one stands back and sees it whole. To reconcoct meaning from the bombardments of experience: to shock, thrill, still the racket, and tether our attention. —Excerpts form Reality Hunger, by David Shields p. 131 (384 – genre)

I've been committed to a sustained weekly practice of improvisation since July of 2007 that pushes me beyond my limits within a group (collaborative dance theater – LIVE) of fellow artists here in San Diego. Practicing consistently has created a rich history of inquiry, a laboratory that allows me to find other ways of being in front of an audience, of dancing and making dances, and through the practice of improvisation to keep discovering what else is possible for me as an artist and a person.
Education
Education
MFA in Choreography, UC Los Angeles
Research Areas
Dance
Office
Office
Galbraith Hall 322